Lofindo interviewed me as founder - you can read the whole interview here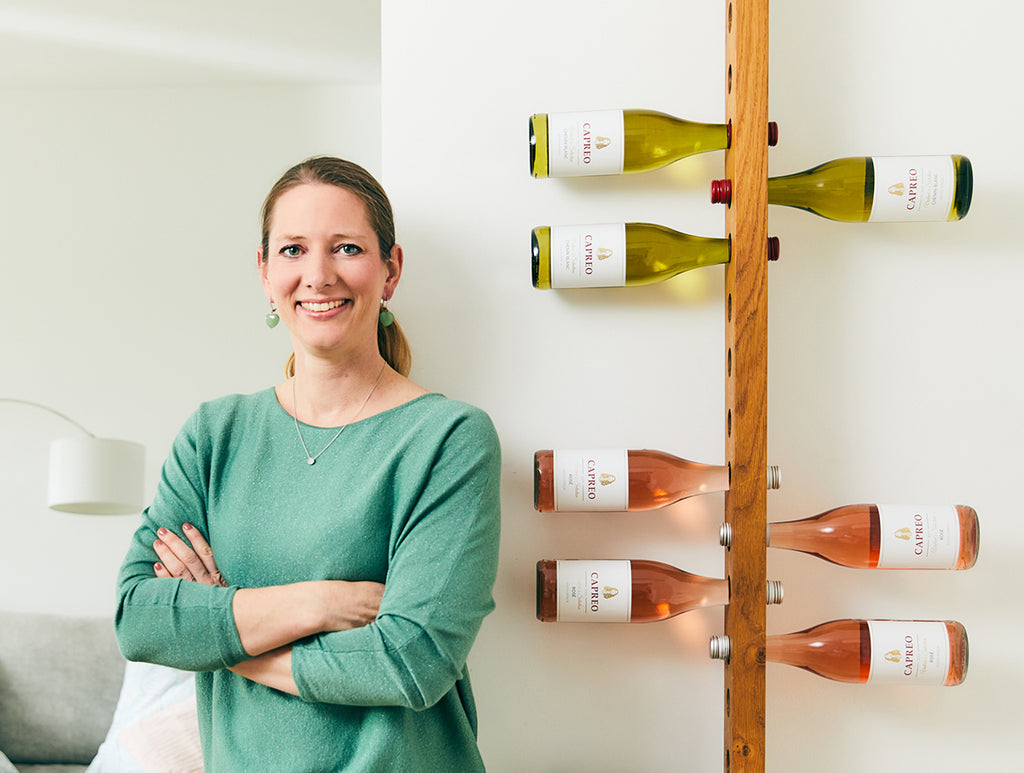 We have a few questions for you about your company and your experience as a company / start-up founder.
Lofindo: How did the idea and the concept for the start-up come about? Can you please tell us briefly what your company is all about?
Katrin von Hanglage: For a few years I had already had a wooden wine rack at home, which I designed with my sister at the time, which our father had built in the cellar. Many guests in the last few years were always enthusiastic about it. After my parental leave, I needed a new job. Preferably one where I could work flexibly and self-determined. Since I was born with a love of wood and design and have since become a wine lover, I started researching and there was no such wine rack on the market. That was the birth of Hanglage in 2020. I have the shelf produced in an owner-operated carpentry in the region (near Hamburg). It is 100% Made-in-Germany and handmade with love. That and the high quality is what makes it special. A wine rack for all wine lovers who want to present their wine in a stylish way. In addition, I have a matching range of wine accessories in my online shop.
Lofindo: The biggest hurdles on the way to founding the company were? or Which person supported you/you particularly during the founding process?
Katrin von Hanglage: The biggest hurdle at the beginning was - I have an idea and I want to start up, and now? How do I even start, where do I get information, service providers and help? The most supportive people were my husband and my best friend, who were absolutely behind me and always motivated me. Another hurdle was that I started up in the middle of the Corona period and so everything went much more slowly and not everything was available, such as trade fairs.
Lofindo: How important were "real contacts", a large network of contacts for the start-up?
Katrin von Hanglage: I entered a new industry and therefore had no contacts at all when I started. But I built them up with the start-up and the network is constantly expanding. Once I started at a start-up seminar, more and more contacts came up and suddenly you are in the middle of a network. That is very important and helpful on the way. Only through this network have I received helpful information and tips, e.g. on many start-up topics or service providers. Founders among themselves are also very helpful. Founder seminars were also very helpful. I took everything that was offered. Unfortunately, Corona meant that a lot of it was only online, otherwise I think there would have been even more contacts.
Lofindo: How did you manage to get on everyone's lips at the beginning, to become known, to position yourself?
Katrin von Hanglage: From the beginning, I told the world about Hanglage everywhere. Via personal contacts, via social media, via other social networks, via advertisements, cooperations and stationary shops. I didn't just go one-track, but tried out all the ideas and then saw which channels were most effective for Hanglage. I'm still in the middle of that step, too.
Lofindo: How do new users become aware of your product/service?
Katrin von Hanglage: Many via social media. But also via online advertising and various platforms like Lofindo. And stationary via cooperations, which I am currently working on expanding. I'm looking for collaborations, wine shops and co.
Lofindo: What is new about what you do?
Katrin von Hanglage: We don't have off-the-peg shelves. All shelves are handmade with love in Northern Germany from regional wood. So 100% Made-in-Germany, from solid wood. We also pay a lot of attention to high quality. Our large wine rack is also custom-made for the individual ceiling height of the customer.
Lofindo: What are the next milestones?
Katrin von Hanglage: Expanding the range. I have just launched a second wine rack, the Hanglage Mini, and I am constantly on the lookout for new wine accessories. In this respect, I'm looking forward to trade fairs again soon. I am also in the process of setting up cooperations with stationary shops, among others.
Thank you for taking the time to answer our questions.
Thanks to Lofindo for the interview!